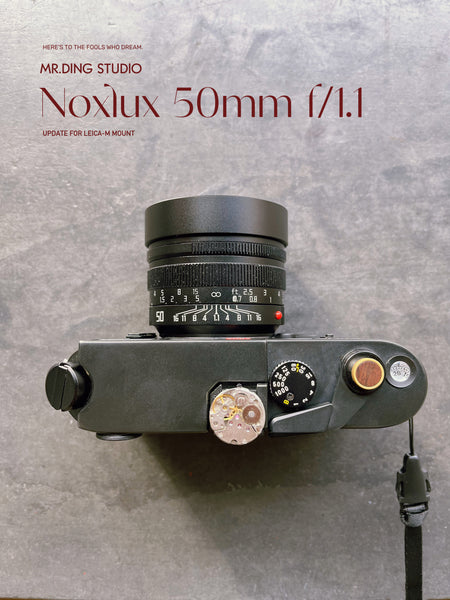 The new Mr.Ding Noxlux DG 50/1.1E58 has finished the production of samples yesterday.
Due to the current epidemic control by the government of Guangdong Province in China, our traffic has been restricted, and the efficiency and capacity of the factory have been greatly reduced. Therefore, the completion time of this sample was almost a month later than expected.
 Let's also expand on what we've done.
1⃣️Bring hood
📝 The hood is fixed to the front of the lens through a threaded form. Through high precision finishing technology, the hood and the lens are integrated. When you need to use it, turn it off and turn it back on .
(Three different states.) 
2⃣️Viewfinder linkage
📝 The new version can switch between film and digital cameras at the same time. No additional adjustments to the viewfinder linkage.
3⃣️Ssembly process
📝 By improving the internal structure, we optimized the complexity of the assembly, thereby reducing the error rate and indirectly improving the picture performance of the lens.
4⃣️.lens aperture
📝 The updated version has redesigned the aperture group and changed the direction of rotation to suit the usage habits of Leica players.
-
The fifth and sixth images are full and partial images in the f/1.1 case.
-
As the cost of the upgraded version will be higher than the old version, so when the official launch, the retail price will be a certain amount of increase.
-
Recently, the local epidemic control situation has been greatly affected. We will also step up communication with the factory in the future to try to get the silver version sample out as early as possible, and also strive to put it into production before the Chinese New Year.
❤️ Thank you for your patience and support ❗️
🍑 Presales will be available through Dec. 3.